Miss Construed is a brilliant, creative mind that the Phoenix alternative fashion and art scene is lucky to have. The Miss Construed Boutique, located in the heart of downtown, proudly offers hand-made couture fashions, accessories and art by many talented designers and artists. Her signature style started with trucker caps and custom tees and has expanded to swimwear, club wear, accessories and more. Her team of models, makeup artists and hair stylists are among the city's most elite. She is also one of the most driven and organized people I have met and is destined for success. – Fuchsia
When did you realize that you wanted to be a clothing designer?
I have always been an artist but never really knew what my niche was. I took sewing to see if I would find my place and I never stopped sewing since!!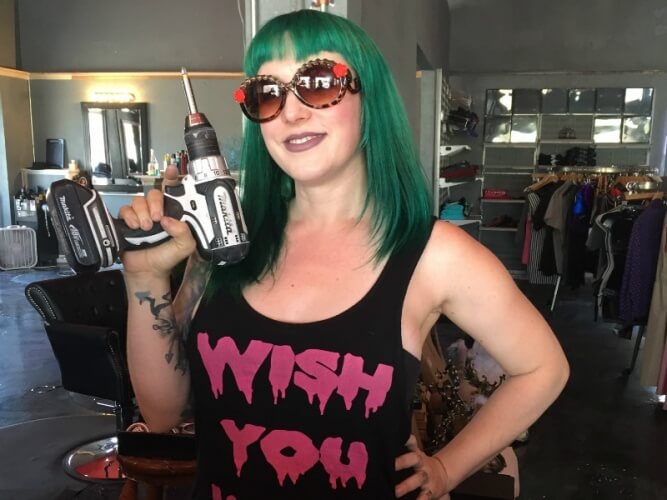 Who do you look up to in the fashion world, as far as designers and/or models?
I am obsessed with Guo Pei. If you look up her work you will know why!! I also am inspired by alternative models constantly and any artist that puts their all into their creativity!
Do you like to listen to music when you sew, and if so, what type of music do you prefer?
Oh yes, its a must. I listen to everything from Metal to Rap, Industrial to Punk. I also love me some Reggae on the hot summer days!
What has been your biggest success to date?
I would say my snapback line. They are selling like hotcakes!
What is your ultimate goal for your business/brand?
I want to just continue to grow, inspire and cover the world in Missconstrued. I love seeing my art thrive, as does any artist. I dont know where the road will take me but I am enjoying watching it come to life each day.
Tell us more about the Miss Construed Miss Girls.
I have a total of 16 models who are contracted through Missconstrued. I like diversity and range in our group. These girls have grown so much and its amazing to see their modeling transform. At Missconstrued, we are anything BUT traditional so they get to do all kinds of fun artistic shoots and events. They really are my backbone, we're a family.
For aspiring models out there, what does it take to become a Miss Girl and how often do you look for new girls?
I look for ladies with passion and that truley embrace the art of modeling. It takes a certain type of girl, as I desipise the typical fashion pose. I want someone with energy, ambition and a spark for life! All my girls are just that, and will always be. I am actually looking for a few right now, I try to do a search twice per year or as needed.
What upcoming fashion shows, shoots, events, etc do you have on the horizon?
A ton! Right now we are involved in the Sugar Does Phoenix Fashion show March 29, 2013, G-String hosted by the Alternative Fashion Society on May 11th, and Model Wars fashion competition on May 19, 2013.
Links:
Miss Construed Official Website
Miss Construed Boutique Facebook Page