1. What is "Torture Couture"?
It caters to women who don't fit into a particular stereotype or category, who like to mesh different styles together. The fashionista with an edge, and a dash of spooky. Torture Couture is inspired by many things, including burlesque, horror, fairy tales, the Gothic Lolita lifestyle, Old Hollywood glam and my infatuation with death.
2. How did you come up with the name?
My partner-in-crime (Jacob) came up with the name, which was originally just a name for my "faux" collection in college, for my final grade. The original collection of items consisted of fetish-inspired business-wear and accessories. I'm very into tailored suits and coats. "Torture Couture", the name, was to explain that the hand-sewn apparel could be edgy or rather.. darker.
3. What was the first piece that you ever designed and when was that?
The very first piece I ever made was for myself. I wanted a vintage "dark" film noir type of hat, teardrop shape, which I hand-sewed for myself. It had a high point to it's base and had black feathers, black lace and veiling. That was in 2004.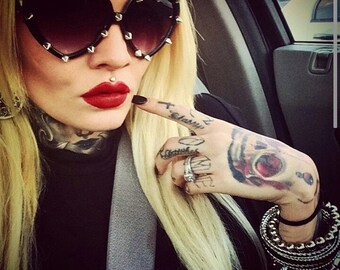 4. How long does it usually take you to construct a piece?
Anywhere from 5 minutes to 1 hour! Really just depends on the complexity of the piece, or what specifics the customer (if custom) wants for their item.
5. You have made some amazing custom merch for my band. Do you do a lot of custom work? If so, who are some of the artists, groups, models, etc. that you have worked with?
I've had the pleasure of working with Bella Lune, of course, Jeremiah Saint, Emily Lazar of September Mourning, Miss Derringer, MichellexStar, a local Pirate "Ship," burlesque troops (mostly overseas, but some from Romantasy Cabaret here in Phoenix), lots of brides/weddings, an assortment of people really! And they're all so different, so it's really a treat for me to work with so many different "types."
6. Who are your favorite designers?
Chanel, Jean Paul Gaultier, Tarina Tarantino, h. Naoto, Lip Service, Mother of London, Christian Dior, Lanvin, and countless others….
7. What do you think of the fashion in Arizona?
Sometimes it's hard to wear what you want in the HEAT! lol But I do appreciate, for the most part, people's individuality and the way they carry themselves.
8. Where can our readers buy your designs?
They can purchase our Jewelry/Accessories via our web store: www.TortureCouture.com or Etsy fiends can go here: www.MissTorture.etsy.com
9. Are there other links you care to share?
MySpace: www.MySpace.com/TortureCouture (We have our own personal playlist for our customers/fans to listen to)
Facebook: http://www.facebook.com/profile.php?id=100000769354239
Facebook Fan Page: http://www.facebook.com/pages/TORTURE-COUTURE/109145095771496