The Spiritual Bat are the European headliner for the upcoming PhxGoth Virtual Festival on April 24! Their sound fluctuates between deathrock, gothic rock, postpunk and darkwave with a hint of psychedelia. Active since the early 90s, with its earlier incarnation known as Spiritual Bats (plural), The Spiritual Bat is an independent, self-produced band from Italy that has carried out five coast-to-coast tours in the USA. TSB has performed at European festivals like WGT (Germany), Whitby Goth Weekend (UK), Return To The Batcave (PL), Gotham Sounds (Germany), Castle Party (PL). The Spiritual Bat is guitarist and composer Dario Passamonti, founding member of Spiritual Bats (plural, est. 1992) – and Rosetta Garrì, singer and author of lyrics and arrangements, former percussionist. Recent collaborators have included Ashkelon Sain (of Trance To The Sun and Devoured By Flowers, from Portland), Alessio Santoni (Volume-Ufip-Facus, from Rome), Aaron Nicholes (of Legion Within, from Seattle), and recently the young talents Emilio Torella and Massimo Ceci from Frosinone, Italy. Since the beginning The Spiritual Bat(s) – have featured artwork by the Alchemist Painters (Biennial of Venice, 1986), on album covers and projections in live performances, as well as collaborations with Doc Hammer (Venture Bros). In 1994 the Spiritual Bats opened for Rozz Williams (Christian Death) and his Daucus Karota.
In preparation for the upcoming festival, we wanted to find out about what they have been up to, including their latest single, their creative process, a new album and other plans for the future. Check out their responses below.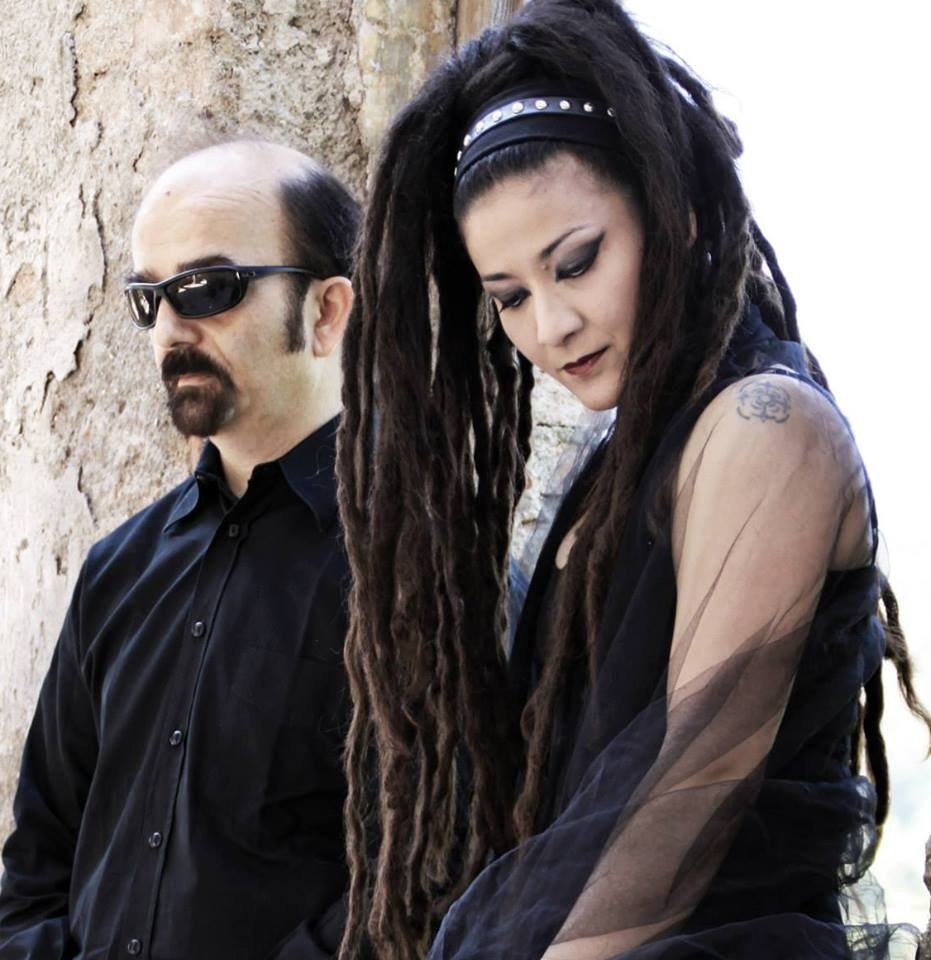 You have a fantastic new single and video out called "Mission", which everyone reading this should watch right away if they have not seen it. Can you share the significance of the lyrics and/or the meaning of the song?
Thank you! Our songs are a sort of rituals which have helped us through the years, to overcome fears, exorcise anger, gather strength, find focus and direction, fulfill dreams, from the creative stage to performing live and sharing with an audience. The power and magic of music. We believe and hope it may help other humans, and all of us to connect with our own inner selves and to each other. These are crazy times: geo-political instability, the rise of hate movements, environmental emergency, and now even the pandemic. Though humanity has always gone through highs and lows, recent times have been overwhelming, sometimes touching on a sense of doom.
We are not immune to any of this, we struggle just like anyone else. But we are blessed to have music. Being artists is not all glamour and spotlights, for some of us it is actually a very intimate, deep, emotional and spiritual journey. At times like these, some of us creative beings, might be tempted to give up, some might feel like it's not worth it, like nobody is listening.
Well, Mission, as other songs in this album, is a ritual of exhortation, a call to arms for artists. Where arms, of course, are the artists' tools. Your Art is not useless. It IS essential, creating it is food for your spirit. We have a mission to accomplish. We are artists, we are creators, each in our own universe, and we can share parts of it, for kindred souls to find, no matter how rare. When there seems to be nothing left, we can still create. Don't give up, people! Don't let the visions fade! Your passion and your sacrifice will be inspiration for others! It doesn't matter if you have few or many in your audience. There's a need for all of us to create, for each one of us to be our own self. Because someone out there might need exactly what YOU create, whether it be music, or poetry, or drawings, or dance, or sculptures. One of these days, that person may find your art, one way or another, and they might be inspired by it, inspired to do something, to change something, to create something… but they surely won't find you if you give up. And that in itself is a message of hope, and strength. Keep working on it! Because Art is work, dedication, even a science, it is definitely magic, and it can induce change in people's consciousness.
How did the collaboration with Shir – Ran Yinon come about?
Shir-Ran Yinon is an amazing musician and composer. We knew her through her work with New Model Army and The Eden House, but she ranges from classical chamber, to symphonic, to metal. We got her on board thanks to Stephen Carey of The Eden House, a band we hold in high esteem. We did our debut live stream on March 21st, 2020, during our first lockdown. Italy was the first European / Western country to be hit by the pandemic. We were hit hard. We didn't know how the situation would evolve. It was a bit scary, to be honest. We had never done a live stream before, but we felt an urge to stay in touch with our fans and friends, and wanted to share a moment with them. It was a very intense show. A few days later, we were contacted by Stephen. He liked our energy from the show, and offered to mix a song for us, as a contribution, because "we artists need to stick together". Until then, we had mixed all our albums ourselves, from Cruel Machine to Your Own World – with few exceptions. Our songs to us are like our children, our creatures, and we find it hard to entrust them to anyone else. We understand very well the benefits of professional mixing, but the writing/recording/mixing process is a bit intertwined, in our case. With Stephen Carey, we knew our creature would be in good hands, so this collaboration was very welcome, and an honor. He then suggested adding some violins, if we were interested, and if Shir-Ran agreed. He also got Gordon Young on board, for the mastering. Needless to say, Shir-Ran's work is superlative, and so is Stephen's and Gordon's. This is an impressive version of the Mission.
Do you have any other collaborations planned for the future? If so, what can you tell us about it? 
Yes, in spite of the fact that Dario and I are hyper-possessive of our creatures, and apprehensive, we are trying to be open to collaborations. This has a profound meaning for us. Not being afraid of opening up to others. Dealing with other human beings, with other artists, can be very rewarding, even though you might have had traumatic experiences in the past. And we do need to connect with kindred spirits, to create together.
Especially now, there is a need to reach out, to unite, to give, to join forces, in spite of the distance and limitations. To infect each other with creativity, positivity and hope.
So there's Emilio Torella, who's been playing live bass with us for a few years now. He's a member of the family. Uncle Emilio, if you wish. He's contributing keyboards on "Harmonix", "Warrior" and "Heroes Anymore" on the new album. There's uncle Greg Scott Cruz, from Texas,who was already on "If I Were A Flower" on the Mosaic album. And now, he's on "Mission", "Close Your Eyes", and possibly other songs. Greg's keyboards gave "Mission" a whole new dimension.
We have also been in touch with uncle Alessio Santoni, our old drummer, and we are working with him on acoustic drums, which we hope we'll be able to record soon, as soon as it's possible to do it in safety. And we may have some surprises, one of which involving Doc Hammer (Venture Brothers, Weep, Requiem In White) in a role you would never expect!
What does your songwriting process consist of? 
It might seem quite complicated, at times. This is not a method, it is what usually happens. Dario comes up with the guitar or bass parts. Sometimes he already has a structure, sometimes we develop it together. I program drums, measure by measure, one beat at the time. Sometimes I keep developing the drums for months, not knowing if we are going to have a drummer on the recording or not. If we knew for sure, then I wouldn't need to work on details, like specific fills, but for example, on Your Own World we ended up keeping my programmed drums. So that's a lot of details to work on, for me. We usually record guitar and drums, first. Or bass and drums. As far as the lyrics, I am constantly writing bits and pieces, some periods more than others. Lyrics come to me often while doing other things, when my mind is completely free to roam, while washing vegetables or cleaning… I suddenly take off my gloves and run and write things down. I am getting better at collecting this stuff in notebooks, or computer. It used to be random pieces of paper. Then at some point we jam. Or we jam before, without any lyrics. At some point I go over the bits of writing and track down the ones that belong to the specific piece the music. Dario usually plays the music around the house for months before I get to it, so I am already familiar with it. Often the lyrics are inspired by my conversations with Dario. So the lyrics and the music find each other. The puzzle comes together, the mosaic takes form. And then comes everything else, all other arrangements.
What is your favorite piece of gear in your music arsenal? 
We don't have a favorite piece, as a matter of fact we don't have much, compared to professional studios, or wealthier artists… We are glad we have our semi-soundproof music room, our bat-cave studio, where we can play music pretty much any time. We do have a Sennheiser MD441 microphone, with a long, long story. A couple of Tannoys System 1200. An old Fender Bassman. Not to mention the Les Paul guitar donated to Dario by Doc Hammer.
Can we expect a new album soon? 
Yes, you can. If all goes well, very soon. We are thinking of releasing a CD and a vinyl.
What new musical trends have you observed over the last few years, and has that any influence on your music?
Honestly? We are not sure. We don't follow trends, we have no idea. I love my day jobs but they can be quite demanding, as I usually teach in more than one school, one of which an Academy of Fine Arts. As much as we would like to hear what's going on, we hardly find any time to follow trends.
How has the pandemic affected to the band's creative process?
It might have affected us in more ways than we are aware of. We can't blame it entirely on the pandemic, since there were other personal events that demanded our attention before it struck, but this album is taking a long time in the making. Following the news, concern for our health and especially for our more vulnerable family, an increased desire to be outdoors, to walk in the woods whenever possible, a need to keep in touch regularly with loved ones faraway, distancing, quarantines, a sense of instability, not being able to plan any live shows… all this may at times lead to a bit of discouragement. It has affected our already unstable condition of artists, having to constantly adjust to new restrictions, re-inventing horizons, having to get ourselves together and react, this whole state of mind has penetrated our songs, even the ones that were born before.
But there's something positive in this, too. We very soon resorted to doing live streams. All we had was a smartphone, so that's what we used. We had never been really comfortable with cameras and video-cameras in the past. Personally, live streams have helped me grow, and to accept the way I look, move, and talk. And I think that somehow this will show when we go back on stage. Also, the song "Lockdown" was born in few days, while in quarantine, and we played it live, when it was still fresh, as we had never done before, with a brand new song. With a sense of urgency. Perhaps with the realization that we never know how long we have left, to share, to reach out, to tell someone we care.
Let's say the pandemic ends tomorrow and the world resumes as if everything is back to normal. What's the first thing you would do as a band?
Book a US tour. We have toured there a few times, and have met incredible fellow artists and passionate music fans, lots of friends whom we miss. Plan gigs in Europe, too. The difference is that in the US we do month-long tours and here we do mini-tours of 2-3 shows. We love both. Playing and traveling is what we desire. Some may not know we started playing live late in life. It took the death of a dear friend, Claudio Mura, our sound technician, to shake us from our stage-fright, or shyness, whatever you want to call it. And of course, once we started, we knew he was right about everything. You never stop learning on this journey, to overcome our limits, to cope with different acoustics in every location, to travel with a mission to accomplish, to share our dimension with other humans, gathered together in space and time, to draw on the energy of the audience, to feed on their emotions. Touring is what makes us feel alive. All we have to do is to keep a spiritual perspective, so as to counter-balance the high.
Last time we talked, you mentioned The Alchemisti Painters as a big influence on your work. Do they still influence your music and creative process?
Yes, they do, definitely. The philosophy of art as the great metaphor for spiritual transformation, the quest to "know thyself" is more than ever present in our creative process and our daily life. And it's a constant effort. Plus, Dario is still one of the Alchemist Painters, in spite of his passage into the dimension of shadows, in 1994. In my opinion, he is a great alchemist in life, too, proving day by day that transmutation is possible. He manages to transmute a potentially negative situation into an artistic experience, as a painter first, and then as a musician, being born with a condition that would eventually lead to blindness. The Spiritual Bat, the music, the recordings, the tours, are part of his visions come true.
What's next for The Spiritual Bat?
We're looking forward to finishing the album. Unfortunately, we have finally come to the hard realization that, no matter how much we desire to, it is very difficult for us to write and record, to focus on the details of each song, while at the same time practicing for a whole live show or stream. So we are currently working on maintaining focus, coordinating the various efforts being made, from a distance, in order to release the album as soon as possible. But, you never know, we may not resist the temptation of a live stream soon!
Links: