One Friday night, The Spiritual Bat spread their wings in a dark corner of Phoenix's Rips Bar and busted out a number of tunes taken straight from the crypt. The duo of Dario Passamonti and Rosetta Garrí, with bass player Ashkelon Sain of Trance to the Sun fame, flooded the tiny stage with grimy darkness summoned from Garrí's eerie falsettos and Passamonti's wailing, punky guitar distortions. With minimal lighting and an absence of flashy stage equipment, the Bats crept through shadows that flickered with the moving visuals projected on a screen in the background, the gothic menace blaring unfiltered through the sound system. The band paid respects to each period of their career–from 1995's Confession to 2014's Mosaic–resulting in a thoughtful setlist that carried deep into the witching hour. If opening act, local band The Captives, were the sickly sweet sunshine winking past the clouds, then The Spiritual Bat was the thunderstorm that blacked out the light, and they did so in a style that only genuine goth music could ever achieve.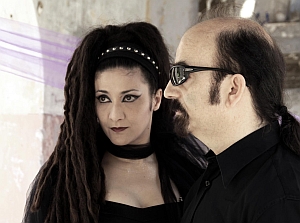 The Spiritual Bat have been recording albums that recall the sounds of vintage deathrock since the 90s, but they have only begun sharing their Italian-born gothic gloom with the rest of the world during tours for the past few years. This year marks the tour of their latest album, Mosaic, which embarks yet again on a trudge through the misty forests and cavernous castle halls of old-school goth of years past. It's a privilege for Arizona to have a band of this sound and style performing on its turf.
We sat down with Dario and Rosetta for some special insight into their new album, new tour, work ethic, history, and views on the underground. Read on for more. – Zander Buel
1. What have been the highlights of the Mosaic tour?
The whole tour is the highlight. We work so hard to tour, dedicating a lot of time to day jobs, practicing, recording, mixing, mastering, and booking. So to be out and traveling IS the highlight. The DNA Lounge in San Francisco was fun, Portland has a great theatre, and of course, Release the Bats in LA was great. We've been crashing on peoples couches, meeting new faces, and talking to friends. We have established many great new friendships here. It's like a big growing family.
For the first time we have a bass player, Ashkelon Sain of  Trance to the Sun. He's also collaborated with The Deadfly Ensemble, Soriah, and a number of several other notable projects. He is just amazing. He's an amazing musician, an amazing tour mate, and a wonderful person to know. We are also working with Doug Principato on the East Coast, so we are very excited about that. He is a very prolific composer, as well, and a multi-instrumentalist who, among other things, has toured the world with Ari Up of The Slits. It is truly an honor to be working with what we call real musicians and accomplished artists such as Ashkelon and Doug, and we thank them from the depth of our hearts for their huge contributions to our tour.
2. How has the response been from U.S. crowds compared to European crowds?
The Americans are very energetic and generous. They've participated well beyond the shows, letting us stay at their houses and use their equipment. Oddly, we haven't played as much in Europe, we don't have enough shows under our belts in Europe to make a fair comparison. We will have to play more in Europe to give you a better answer.
3. Can you give us some insight into the background visuals you use as part of your live show?
The visuals are based on The Alchemisti Painters work,  a group of artists founded by Lamberto Bracaglia in 1976. By the way, Lamberto is currently holding a personal exhibition at Fondazione Mastroianni,  Ladislao Castle, in Arpino, Italy, a very important accomplishment. The Spiritual Bats (plural) used to perform in their rare apparitions with real, physical art installations by the Alchemists. For touring we are now resorting to video projections, which can be very effective, considering what can be done with basic editing when you have amazing art. Most of our albums also contain a poem or a piece of art by another Alchemist painter named Luigi Pacioni, who passed away in 1978.  The title of our last album relates to how a mosaic may be beautiful from a distance, as one picture, but when you get up close, it is many different worlds. So is the video projection used for the Mosaic Tour; it is a series of photographs representing the infinite details from one long scroll by Lamberto Bracaglia.  He has many of those unrolled for the exhibition at the Fondazione Mastroianni. And you can find references to the world of goth in his installations. Also, on two albums we have Doc Hammer Graphic Design combined with Alchemisti Painters' artwork. Many know him thanks to Venture Brothers. To us, he is one of our dearest friends and a most esteemed artist, both as musician and as painter. Just see Requiem In White, Mors Syphilitica,The Order of The NCS, and Weep.
4. What is the overarching theme of your new album, Mosaic?
There are songs in this album that are very personal, but for the first time, we touched on social issues. We normally don't do that. I am not an activist, but I do want to shout out and cry for what is going on sometimes. Mosaic is all about humanity, good and bad, good and evil, all in one picture.
5. What is the challenge of taking old-school Goth tropes and translating them into fresh interpretations? Do you see yourself looking forward with your music or more with a rearview mirror?
We just make music. We don't think about being in a movement or being classified in any way. When Dario makes music, it just comes from him spontaneously. It's other people who label us "goth," which we do not mind because we receive a lot of support from the scene and community. Influences are inevitable, but we are not sitting there thinking how can we make this sound goth or not goth, or how we can improve a sound that is considered goth and make it more modern. I think the influences are pretty much genetic or innate. We are not planning it. We just go for what we feel and like. It's a challenge making an album, but we aren't thinking about making it goth or not. We don't reject the origin either. During Cruel Machine we did remakes of songs from Confession, which seems to be considered our most "deathrock" album. We aren't the type of band that is moving in a calculated way.
6. Are there any particular bands or influences you try to channel when composing a song?
Some influences are Pink Floyd, Joy Division, Siouxsie and the Banshees, Bauhaus, and Christian Death. This is stuff that we have listened to in the past. When we record, we don't listen to anything else. We don't have as much time as we'd like to explore new stuff. Dario has only done one cover in his life, which is the Joy Division song "She's Lost Control." We usually just focus on our stuff.
7. What are the bands that inspired you when you got started? What inspired you to pick up a guitar and start writing?
Dario: It was Joy Division in 1978 or 1979. By the way, we watched Control two years ago in Seattle. I cried. We have never even had a DVD player at home.
8. You cite bands like Christian Death, Requiem in White, and Bauhaus, with a sound rooted in post-punk and deathrock. Which bands do you view as your contemporaries in terms of sound?
We don't know. We think that our music is kind of weird and that it doesn't sound like anything else, but it would be interesting for us to ask you the same question. because it would be an interesting perspective.
Zander: I hear Mephisto Walz in your sound.
Rosetta: Yes, I can see that! But I feel Christian Death is still vaguely present in our music as well! Dario says nobody else has touched him as deeply as Rozz.
9. What has it been like being part of the Danse Macabre Roster?
Tvyes Oben from Crawling Tunes Magazine had reviewed the instrumental version of the Through the Shadows, the demo. Later on he started working for Danse Macabre. We re-recorded the album, with Alessio on acoustic drums, and I sang on it as a last-minute experiment. In that period, Tyves said, hey, if you are interested in a record deal, you can come to my label. There is a whole anecdote about that time period, because unfortunately we had just signed with a new Portuguese label who was putting together a huge festival with huge names.
We had chosen them over another, smaller German label because they were going to have us play the festival. We became skeptical, however, after some revelations made by other bands on the label, and especially so when the label promised us two tour buses for the 5 bands to tour Europe before taking part in the festival. It made no sense. When it became obvious that it wasn't going to happen, we considered our contract void, and we asked Tyves if the offer was still valid… and that's when we joined Danse Macabre. It's been good! It's given us a lot of good exposure. We believe we had access to Wave Gotik Treffen through them – and Motherdance. I can only say good things about them.
10. How have you seen the underground scene change over the years?
We did not go out much before starting to tour, and we didn't really play live until recently. The reason we are playing out so much now is because we didn't do it in the past. Many people of our generation aren't going out now. We have the same enthusiasm now as 18-year-olds just starting. That makes a big difference. Some people are surprised about how much we tour. The reason for this is because our enthusiasm is fresh still. We didn't really want to play live until 2009. We suffered from stage fright, which doesn't go along with performing, so we were just into making albums and bringing those into the world. Then our dear friend who worked on Sacrament, Confession and Through the Shadows suddenly passed away on us, and he had been yelling at us and fighting with us, due to us not playing live. The week before he died, we had a major discussion about it. We had been drinking, and he was pretty drunk. He got really angry and told us we were getting old, and that we aren't complete musicians until we perform live, because its part of being a musician. The next week, he was gone, and we decided that we had to keep a promise to him. We trusted his opinion and we knew what he said was true… and it was true. It's a constant learning experience, and the energy we get from the audience translates into our new album and new art going forward.
11. Does playing live meet your expectations?
The first show we played after our friend's death, we had about 40 people. It was in our hometown. The second show was in Rome, and there were 250 people there. We were opening for a Joy Division cover band from England called Transmission. We had been promised soundcheck, but it never happened and it sounded awful. We couldn't hear anything on stage. We felt terrible after that. We said no, this is not for us, it's too humiliating, it's terrible. But then, we aren't cowards. and we tried again. That's how it is. Playing live is sometimes difficult because you don't always have the right equipment or sound engineer or acoustics you would like to have. It's not like playing at home where you have your ideal sound. But it has helped us, too. Dario plays with different amps every time. We take whatever amps we are kindly loaned by venues, promoters, and other bands. This has given us a lot of experience now, and we are stronger for it. We are beginning to feel at home on stage.
12. What can we expect from The Spiritual Bat in the future?
We hope that we will have a full band one day, a dream team. That all depends on the financial crisis, and if we are appreciated enough for people to invest in us going forward. Traveling with 5 people costs more than 2 or 3 people, so this is our dream: to have a full band and play live shows that way.
The Spiritual Bat are are spreading their spiritual battiness on tour right now. Don't miss them!
Support The Spiritual Bat and buy their music.